IMG Live - Military Appreciation Day with Prudential and the NJ Devils
Promotional hats embroidered with the guest's initials, troop number or USA.
Twitter - Media and PR Appreciation Event
Totes personalized with the guest's individual Twitter handle.
Wawa Goose Jam
Personalized tattoos for Wawa Associates. Design provided by Client.
Scout Sports and Entertainment for Spoken Barrel Wines
Leather luggage tags personalized with guest's initials.
Sixers Family Day
Guests offered ability to customize shirts and select from a variety of designs.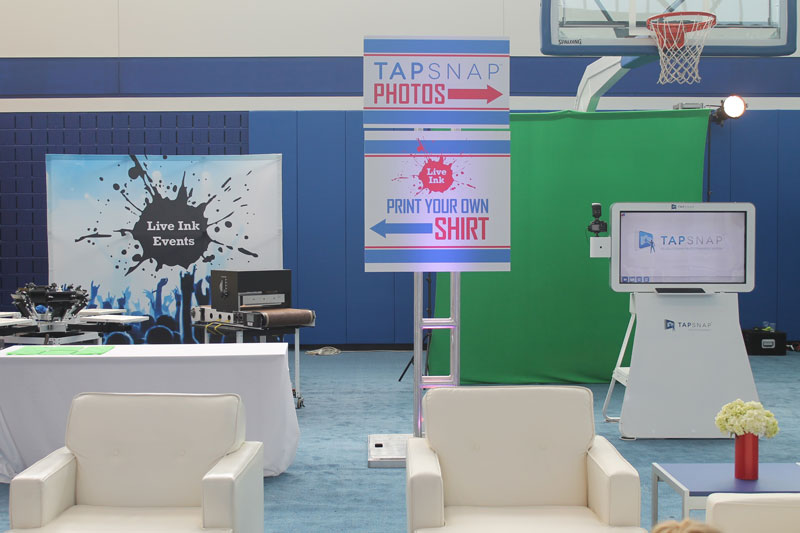 Jack's Bar Mitzvah
90 custom hockey jerseys decorated with the mitzvah logo on the front and live 
personilization
 with the guest's last name and number on the back.
Einstein Healthcare - Broad Street Run Activation
Live printing of 3,700 custom shirts and collection of 3,400 emails.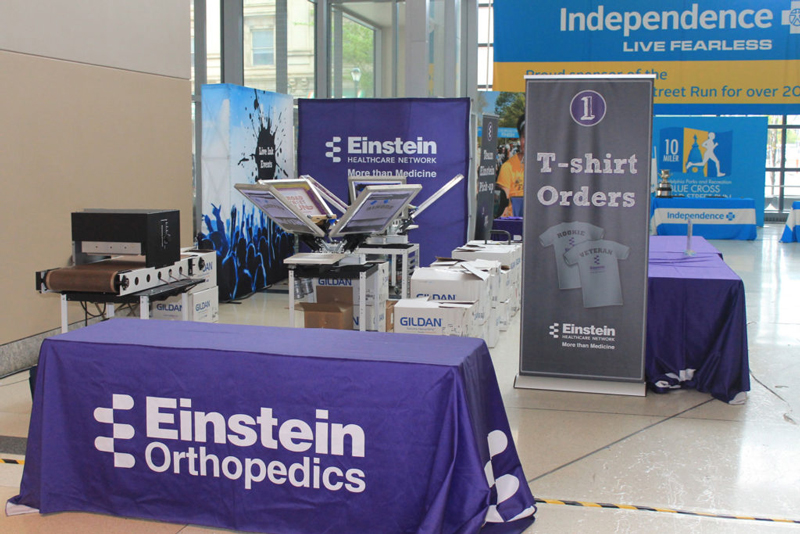 Infiniti Activation with Philadelphia Magazine at Rittenhouse Row Festival
1,000 custom tote bags offered to guests after they entered contest.
Philadelphia Auto Show – Exclusive Partners
Sales of apparel with a portion of proceeds going towards Caring for Kids Foundation.
Reach and Raise – Personilization of Yoga Mats
Guests had opportunity to have their mats personalized with name and client logo.
Live Ink really gave our event setup the pop we were looking for. In a packed convention center, we wanted our booth to be a draw for the audience and Live Ink definitely delivered. Guests were attracted to our booth and enjoyed the unique experience we offered them. The interested traffic allowed our staff to interact with people while they were waiting for their bag to be able to talk about and demo our products so it really worked out well for us and we're looking forward to future events we can partner together on.
"Had an amazing experience working with the Live Ink team for one of our events.  Always a much better experience for important clients when you can personalize their swag. Will definitely use Live Ink again in the future!!"
Live Ink was a great addition to the International Live Events Association's Winter Networking Event, Jingle Jam. Have referred them to multiple clients and I look forward to working with the Live Ink team again!
I couldn't recommend Live Ink more! They are truly great partners who go the extra mile for their clients, and the experience they provide to event participants is second-to-none. Each time we have worked with Live Ink, we have been the talk of the event and gave participants a personalized keepsake and experience that they will actually remember.
Ben and his team are always accommodating and do an amazing job. I would recommend Live Ink for anyone who is looking to add something unique to their events...
We're always looking for fun and creative ways to engage attendees at our events and Live Ink Events helped us do just that with live printing of T-shirts! It was a breeze working with Ben and his team around shirt design, and the finished products were high-quality. Our attendees were excited to have this unique experience available at the event.
Live Ink Events really brought our client's brand to life at our event! The attendees loved getting a gift that was custom made for them and our client loved getting their branded product in the hands of so many people with such an interactive, fun experience. We'll be pitching Live Ink Events to our clients in the future. The team made it so easy and they were all so great to work with. Looking forward to our next event!
What a fun and unique way to engage your guests, promote your brand and have fun while doing it! Ben and his team were so easy to work with - I highly recommend Live Ink!
The Live Ink team was wonderful to work with leading up to the event and even better on-site! They printed 1,000 custom tote bags in two designs within a sponsor activation with great success. The quality was excellent and guests adored their complimentary gift. Highly recommend!
Fun, interactive, creative way to approach event apparel. Especially fun for kids. Ben and the team are great to work with!